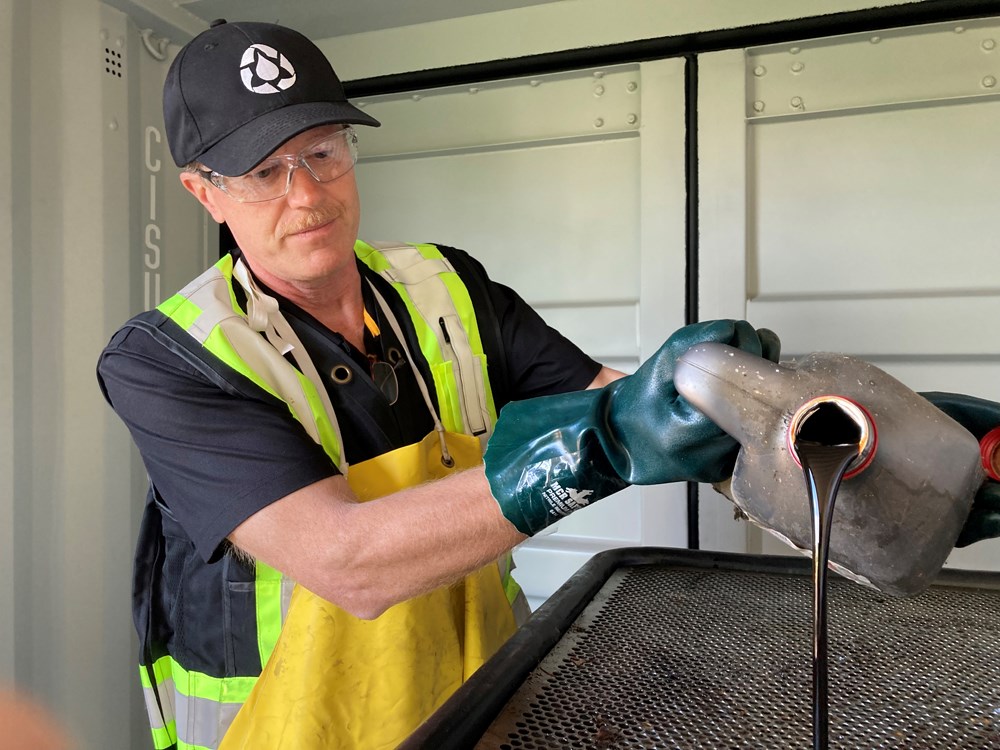 This used oil recycling facility just opened in North Vancouver
[ad_1]
Bring your used oils and antifreeze to this new facility located at the Rive-Nord Recycling and Waste Center
A new oil recycling center in North Vancouver makes it much easier for DIY auto enthusiasts in North Shore to get rid of that old motor oil that may have previously accumulated in a corner of the garage.
On Thursday, September 16, the BC Used Oil Management Association Рa non-profit group dedicated to the collection and recycling of used motor oil, oil filters, oil containers, antifreeze and used antifreeze containers Рin partnership with Metro Vancouver, opened the new facility from a modified sea container at the existing North Shore recycling and waste center in North Vancouver. The new facility will provide C̫te-Nord residents with an easy, free and environmentally friendly place to return used oil and antifreeze.
"It's necessary here on the North Shore – we really needed an oil, antifreeze and filter recycling option, and this was the best facility on the North Shore," said David Lawes, CEO of BCUOMA. "[The Recycling and Waste Centre] this is where everyone comes from … and so we are happy to provide the infrastructure to put [an oil recycling facility] in place."
According to a statement from BCUOMA, used oil can be re-refined into a new lubricating oil or sold as a raw material to use in manufacturing or energy products, and used oil filters contain metal, which is recycled into products. metal such as rebar, nails and wire. . Used oil and antifreeze containers are recycled and used to make new oil containers, drainage tiles and parking curbs. Used antifreeze is refined and reused as new automotive antifreeze.
Oil recycled in North Vancouver is piped next door to a refinery in Burnaby, Lawes said.
"Three-quarters of BC's oil goes to the refinery four kilometers away and is turned back into new motor oil and sold on retail shelves," he said. "We have a refinery that turns old motor oil into new lubricating oil. It's a truly unique story for British Columbia – most provinces don't – and it's a real asset. There is a great circular economy story out there about turning old oil into new motor oil and putting it back on the market. … And the antifreeze, 100% of it is collected and put back on the market as new antifreeze.
North Vancouver District Mayor Mike Little was on hand Thursday for the unveiling of the new facility.
"It's very convenient, it makes it easier to recycle products that in the past would always ask you 'what am I going to do with this?'" He said, adding that he would do. itself the trip to get rid of the engine. oil. "I change my oil, my oil filter – especially on my bike – but it's always a big mess. Once I find all the things that I accidentally dropped into the oil while doing the project, then I need to find a place to recycle the oil properly.
There are significant environmental reasons for providing easily accessible oil recycling facilities like the new one on the North Shore, said Jack Froese, chair of Metro Vancouver's Zero Waste Committee.
"Making it easier for residents to responsible and free recycling of potentially hazardous items is a priority for us," Froese said in a statement. "We are pleased to offer this convenient, environmentally friendly and free option to residents of the North Shore, and we will continue to expand waste reduction and recycling opportunities in the region.
The best plan for recycling oil or antifreeze is to take it to the recycling center in the container you bought it in, Lawes said. The recycling center will process the liquid and also take the container.
Another important tip from Lawes is to get the used oil to the recycling center as soon as possible.
"Don't let it sit there in your garage," he said. "If we can get it back here quickly and cleanly, we can turn it into new engine oil – and it's the ultimate environmental solution. … This is good news all around. It's good for the residents and it also helps us achieve our goals.
The oil recycling center is located at the North Shore Recycling and Waste Center, 30 Riverside Dr., North Vancouver. The recycling center is open from 7 a.m. to 6 p.m. on weekdays, from 8 a.m. to 6 p.m. on Saturdays and from 9 a.m. to 5 p.m. on Sundays and holidays.
Here is a link to a YouTube video showing the installation of the new facility at the recycling center.
[ad_2]