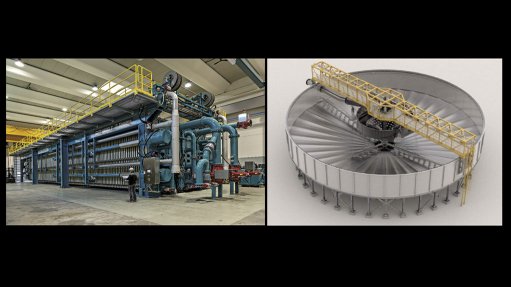 Btech Process, partner of Diemme Filtration for a joint exhibition at EMA 2022
Liquid/solid solutions provider BTECH Process and filtration specialist Diemme® Filtration will hold its first joint exhibition in South Africa during the 2022 iteration of the bi-annual Electra Mining Africa (EMA) exhibition, to be held in september.
The decision to co-exhibit at EMA follows a partnership agreement on liquid-solid separation projects on the African continent. According to the companies, the agreement will enable both BTECH and Diemme® Filtration to carry out successful and advanced pressure filtration and dewatering projects, among others.
BTECH Process is a leading supplier of solid liquid separation equipment and aftermarket services in South Africa with over 35 years of experience in solving complex dewatering problems. Diemme® Filtration, on the other hand, has been in the business of pressure filtration for nearly a century and leads the market in advanced pressure filtration with its Domino GHT5000F filter press.
The combination of skills these companies have makes them a formidable team capable of providing customers with the best and most cost-effective dewatering solutions, the companies say.
FILTER PRESS DOMINO GHT5000F
Considered the largest in the world, Diemme® Filtration's Domino GHT5000F filter press – launched November 2021 – has a plate size of 5m x 5m and is "bound for an as yet unnamed Peruvian copper mining company ", which will use it in a major new tailings management project.
The mining operation will initially use the filter press in a pilot trial, after which it intends to use up to 10 of these presses to provide a total capacity of over 80,000 tpd.
The environmental benefits derived from the GHT5000F technology are "enormous," the companies boast, adding that it "will figure prominently in the environmental, social and governance (ESG) programs of mining companies in the future when it becomes available. will act to adopt a safer and more sustainable environment". tailings management approach".
The development of the GHT5000F Domino filter press followed as Diemme® Filtration identified the need to develop a solution that would "represent in terms of throughput and efficiency", thus making the filter press a "true game changer in the filtration industry.
The machine also benefits from a high degree of automation and is equipped with the new Aida Tutor System, designed to provide customers with real-time information on the status and performance of their filter presses through continuous monitoring of functions and access to the necessary data. from a computer, smartphone or tablet.
BTECH, which has successfully delivered several dewatering projects to local project houses such as DRA Water, is the Africa agent for Diemme® Filtration and will be the point of contact for companies interested in the filter press.
BTECH specializes in providing capital goods for liquid-solid separation applications, and its services include detailed engineering, plant layout, and state-of-the-art 3-D scanning of brownfields.
Target companies include engineering, procurement and construction managers, as well as owners or operators who "need expert solutions for their liquid/solid separation challenges".
For more information or to get in touch with BTECH, visit their website.